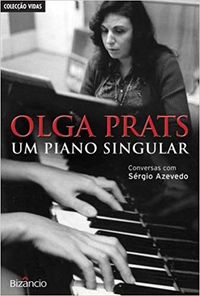 I am not the greatest fan of the pastiche recording: the Greatest Hits of Paganini, My Favorite Debussy, and the like. But everything old is new again, and I've found one I enjoy from I player I've never heard of before. 
The album is not new, 2007, and neither is the player: Olga Plats. But I've never heard of her before, not that that means anything. Born in 1938 in Portugal, her career seems dominated by both teaching and chamber music performance. Then out comes this album of individual, small works, many of them well-known to the general ear. A Gavotte here, a Sarabande there, a Liszt Réve, a Shostakovich Prelude, a Brahms variation, a mote of Mompou, and what is becoming a perennial favorite if you go by the number of players who program it these days: the Berio Wasserklavier. Anyway, you get the idea. Or do you? Do I? I don't think so! But I like it anyway! (She even includes a bit of Chick Corea… c'mon now.) 
The answer may lie in an accompanying book. Actually, I cannot tell if the book came first and then the music, or the music followed by the book, or both together, or some other chrono-combo. They share a title. The book is a series of interviews or conversations with one Sérgio Azevedo (a composer, obviously, who is represented on this disc with a two-piano tango and waltz). I have not read the book but welcome anyone who has done so to enlighten me. 
The album, with a completely different cover and design from the book (and a most delightful album cover it is; I cannot find a worthy resolution to include, otherwise I'd publish it above), is available wherever fine music is streamed. Its distinction is, perhaps, modest. (Although the voice inclusion under/over the Schumann Kinderszenen and a few other works I find most fetching.) Still I recommend it wholeheartedly, especially for these summer afternoons in our strange, changing world: cool and warm all at once.