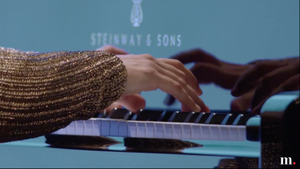 Well I don't know if she has or not but she's certainly doing something very lovely and I don't care whether it's an innovation or not. From Medici, here is the blurb: 
Hélène Grimaud transforms the genre of the recital, integrating a performance of solo piano works by Romantic and Impressionist composers with a multimedia experience. Her recital is interwoven with the recorded music of composer Nitin Sawhney, and set against the backdrop of visual artist Mat Hennek's photography. The film presented here takes the live experience to the next level by interpreting the original performance through the birds-eye view of the filmmakers, more directly connecting the viewer with the artists and their creations. 
By giving full weight to the visual interjections ("transitions" they call them here), it brings to my mind something that is vital to the live experience. As I've long ago encountered and answered the question, via Gould, what is added in the event of live performance? Other than obviously a great majority (we must assume) of performers prefer it to the studio for the *joie de schwing* it brings to their playing, the human connection and all that booshwha. Well, unless (maybe) it's a great grand orchestra in a great hall with three full choirs, my answer is: nothing. Or unless your only home sound source is a pocket radio (and with today's technology even that doesn't necessarily mean the sound is flat or tinny). I will grant the sanctification of the studied moment, the expressly non-multithreaded focus on an experience (never absolute, but intentional and respectful of the work and yourself), and grant too that this is not the same as putting on background music while you work at other tasks. But the theatre Ms Grimaud is staging here is of a different order, subtly, one that increases the spectacle while decreasing the spectacular. Sea change? Probably not. But she's bringing the century-and-a-half old form into territory occupied mostly by newer music performance formats and, whatever the Hamburgers in the Elbphilharmonie might have thought, I think it's delightful.